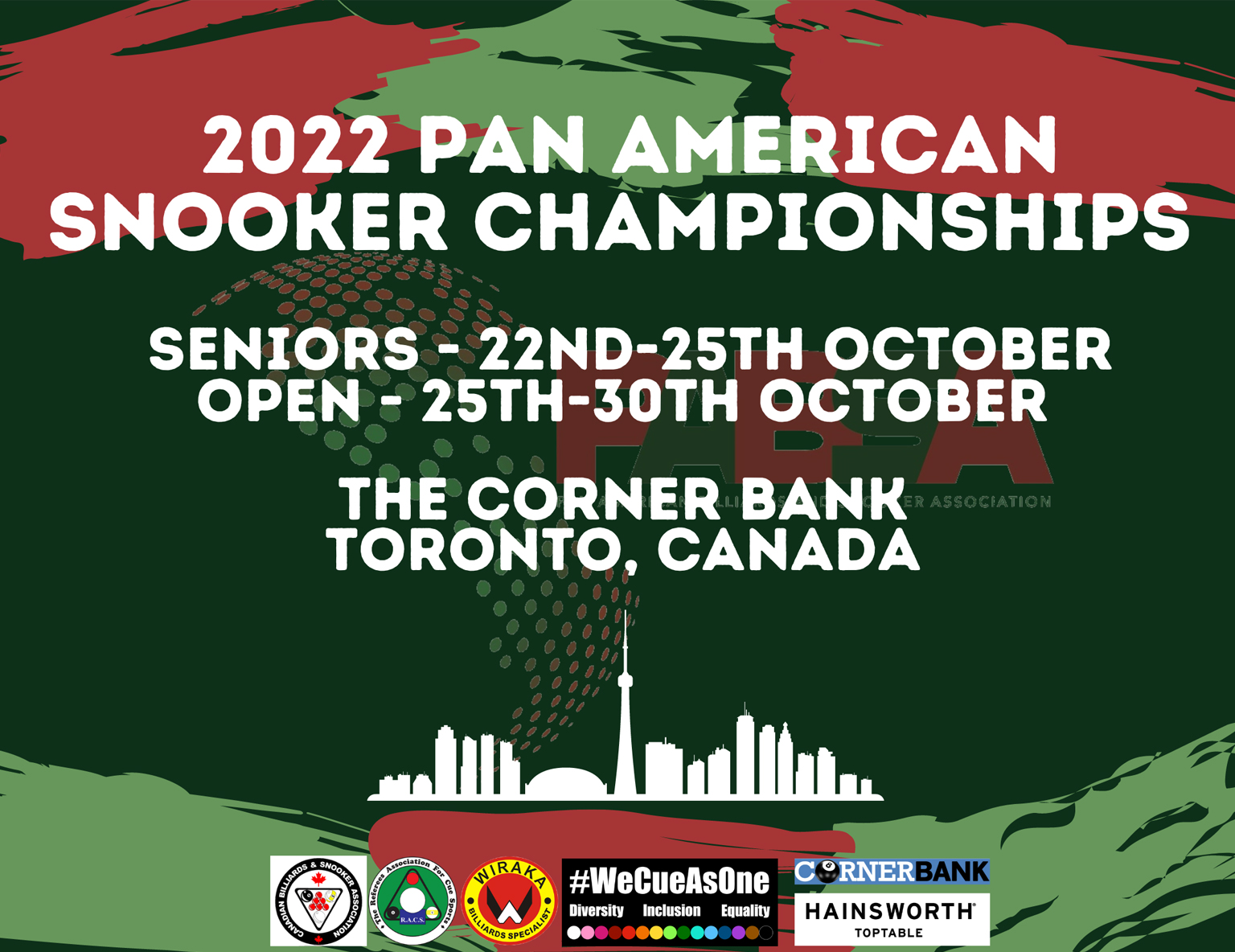 Pan American Snooker Championships
The Pan American Billiards and Snooker Association is pleased to announce the 2022 Pan American Snooker Championships. The event will feature the main Open Championships, in which the winner will claim a place on the WST with a two-year tour card, and the Snooker Seniors, with the winner qualifying for the World Snooker Seniors held at the
Crucible Theatre in 2023. The tournaments will last from the 22nd of October until the 30th of October. The Seniors event will kick off the championships from October 22nd through 25th, with the Open event starting the 25th and finishing on the 30th. The schedule will be dependent on entries and could be subject to change.
The tournament will once again be held at The Corner Bank in Toronto, Canada, after the success of the 2021 Championships. Last year's championships saw Ahmed Aly Elsayad win the Snooker Seniors and Victor Sarkis claimed his place on the WST of the next two seasons beating Renat Denkha 5-3 in the final.
PABSA President Ajeya Prabhakar says, "We are thrilled to be able to announce the 2022 Championships will be held once again at The Corner Bank after the success of last year's event. I would like to thank John White and Jim Wyche of The Corner Bank in welcoming us back for the 2022 Championships and I look forward to seeing who will represent PABSA on the WST next season."
If you would like to enter the championships, details can be found using the link below. The closing date for entries is October 1, 2022, and all players are advised to read the championships entry document also available at the link below. The document contains terms and conditions of entry into the championships.
Entry fees in USD
Seniors $175 + $25 for PABSA membership
Open $225 + $25 for PABSA membership