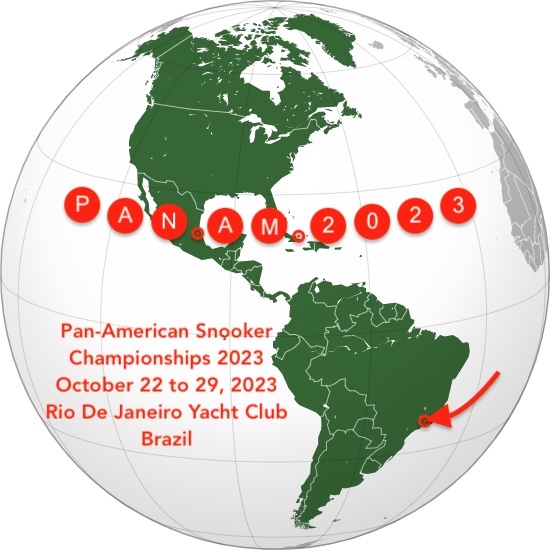 .
Pan-American Snooker Championships 2023
Pan-American Billiards and Snooker Association (PABSA) is pleased to announce the 2023 Pan-American Snooker Championships to be held at the Rio De Janeiro Yacht Club, Brazil.
The event will feature the main Open Championship, in which the winner will claim a place on the WST with a two-year tour card, and the Seniors Championship, with the winner qualifying for the World Snooker Seniors held at the Crucible Theatre in 2024. The tournaments will be held from the 22nd of October until the 29th of October, with the Seniors event taking place from October 22nd to 25th, and the Open from October 26th to 29th.
If you would like to enter the championships, details can be found in the Tournament Document linked below. PLEASE NOTE that entries will be limited to 36 for each of the tournaments. The closing date for entries is September 15, 2023, and all players are required  to read the document, and agree to the terms and conditions of entry into the championships.

Entry fees in USD:
Open US$225 + US$25 for annual PABSA membership
Seniors US$175 + US$25 for annual PABSA membership (needs to be paid only one time if entering both tournaments)

Please note: players would need to sign up for a user account at cloudsnooker.com first, followed by acquiring PABSA membership – after which they would be allowed to enter the tournament. Please use the following link to accomplish this – Membership.

Tournament Document (click to download): 2023 Pan-American Snooker Championships